Affordable UF Badges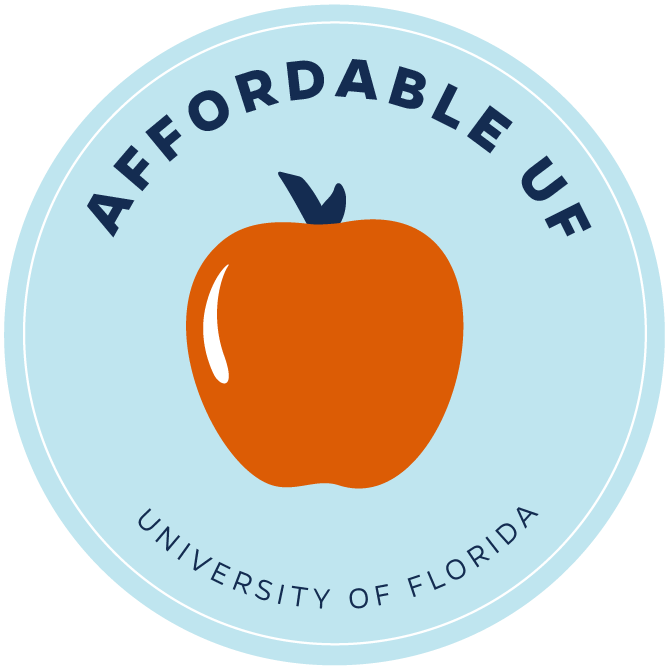 Overview
Courses using materials costing $20 or less per credit hour are eligible to receive the Affordable UF Badge. The badge allows students to easily identify courses with low- or no-cost materials.
To qualify for the Affordable UF badge, and for compliance with Florida Statutes, please submit adoptions no later than the following:
Summer 2023 adoptions: March 31, 2023
Fall 2023 adoptions: June 30, 2023
How to Participate
Submit your textbook adoption at the UF Textbook Adoption website. To be eligible for the badge, your submission must be made before the textbook adoption deadline.
If you think your adoption meets the $20 per credit hour threshold, entered your estimated textbook costs in the "Affordable UF" section at the end of the textbook adoption form, and click "next."
After you submit your textbook adoption the Center for Teaching Excellence will review your course.
If your course is eligible to receive the Affordable UF badge, you will be sent a digital copy of the designation. Students will see the badge in the course textbook requirements when registering. Your badge can also be displayed in many other places, including:
your syllabus
your Canvas site
your email signature line
digital resumes/ CVs
social media
your website
For questions about the Affordable UF badging process, visit the FAQ or contact Micah Jenkins.
Am I required to participate in Affordable UF Badges?
Participation in this program is voluntary.
Can I mix and match resources?
Course materials can be derived from multiple sources as long as the total cost of purchase is $20 or less per credit hour.
Where can I get help with affordable course content?
See resources for instructors or schedule a consultation.
Which courses are participating?
Check out courses that have been granted Affordable UF Badges.